Kayaking in Kåge bay
When we drive into Kåge harbor, Rebecca and I with our kayaks on top of the car, Emil is already in place and smiles big when we get out of the car. He's entered the harbor by sea and is sitting on the pier by his yellow sea kayak. He lives right by the Kåge River and can paddle out to sea in 10 minutes. Luxurious. 
- It's nice conditions out there today, Emil states while he and Rebecca carry one of the kayaks down from the car to the water.
- Almost windless on the lee side and in two, three hours the sea will probably lie flat
A PROTECTED PART OF SKELLEFTEÅ ARCHIPELAGO
It's 16.00 and our plan is still vague. Pretty nice actually. It mostly revolves around having dinner up on Bastuholmen, Storhällan, and then coffee of course. Always coffee. The route there has not yet been determined but we paddle out from the harbor, a bit upstream in the Kåge River which meets the sea in a delicious delta, before we turn out into the sea again and head towards Bastuholmen. I ask Emil to tell me a little about the bay. After all, it's his home.
- I would say that Kåge bay is the most protected part of Skellefteå's archipelago, and therefore perfect for kayaking, but then I was born and raised here and probably biased, he says and laughs.
He has put the paddle in his lap and lets his hands drag him in the healthy brackish water when we now get a little ride in the back of the river.
- Many straits and outlets are shallow and can only be reached via kayak, which is kinda cool. Most people can paddle to Bastuholmen's two piers at Storhällan and Lillhällan.
Rebecca seems to have entered some kind of meditative bubble and paddles at a steady pace 100 meters in front of us, engulfed by the sea, unaware that we are lagging behind. It's nice somehow.
A couple of boats pass us but out of respect keeps a proper distance so as not to create waves. Further out in the archipelago we see a couple of sailboats cruising out to open sea. Maybe they're going north for a night in Furuögrund's guest harbor. Maybe south towards Bjuröklubb or Gåsören.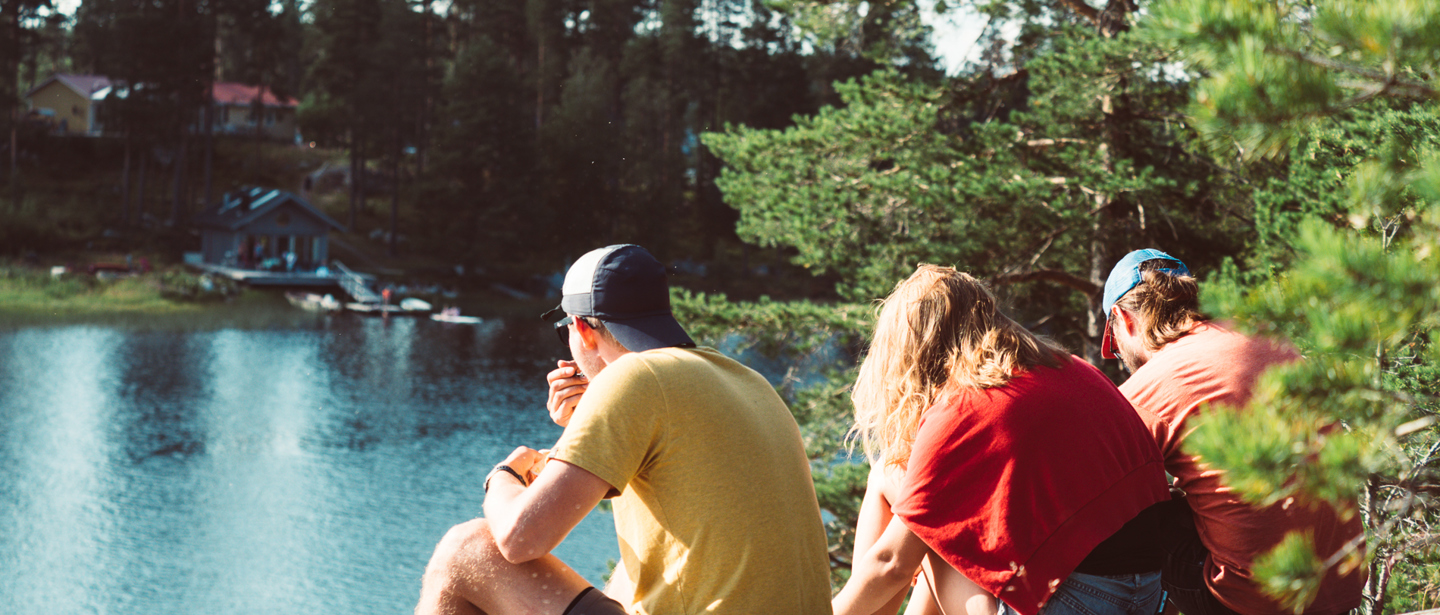 DINNER AT STORHÄLLAN
When we dock at the guest pier at Storhällan, Rebecca has already unpacked her kayak and started getting ready for dinner.
- Cold potato salad with Svedjan's farm cheese, it will be good, Rebecca shouts from the top of the hob while Emil and I pull up the kayaks on the beach.
While we eat, we talk about kayaking we have done or not done. The small rivers. Burvik. Skellefteå river. About tent nights on islands we do not remember the name of.
- Do you remember when we put in the kayaks in Buskösundet and paddled out to Pite-Rönnskär, I ask Emil.
He and I have paddled quite a lot together and have some trips to look back on.
- Yes, when we met that crazy adventurer who would paddle the Norwegian, Swedish, Finnish and Danish coasts in one year, says Emil enthusiastically.
- I remember that we gave him all our coffee when he burned 10,000 kcal per day.
HOME ON MIRROR-SHINED WATER
It's almost 20 o'clock when we have finished eating, but it is still t-shirt hot and the sun is high over the treetops. This is how it is at this time of year.
When we paddle back towards Kåge harbor, it is exactly as Emil has predicted. It is completely windless and the sea is almost like a mirror. After some photography along the way home, we paddle into Kåge harbor again and the only thing I can think of is to plan the next paddle trip. Maybe tomorrow