Klas Nilsson | The mountain as a starting point
What if you could live smack in the middle of both city and country, with 5 minutes to the centre of town and the deep forest right around the corner. Literally right around the corner. 
That´s exactly what Klas has done, and he laughs when I ask why he decided to live right here. We´re standing in the driveway of their newly built house, designed by his sister, at the base of Skellefteås main mountin Vitberget and we´re throwing snowballs across the road, aiming at the edge of the forest. I would have asked if he will be able to keep up a 200 meter long passage from his house to the tracks during the winter, but I won't. He double poled 90 km (56 miles) the weekend before, he crossed the finish line of Vasaloppet as number 23, and his idea of winding down is doing 20 km of cross-country running. I think he'll manage 200 meter of snow just fine.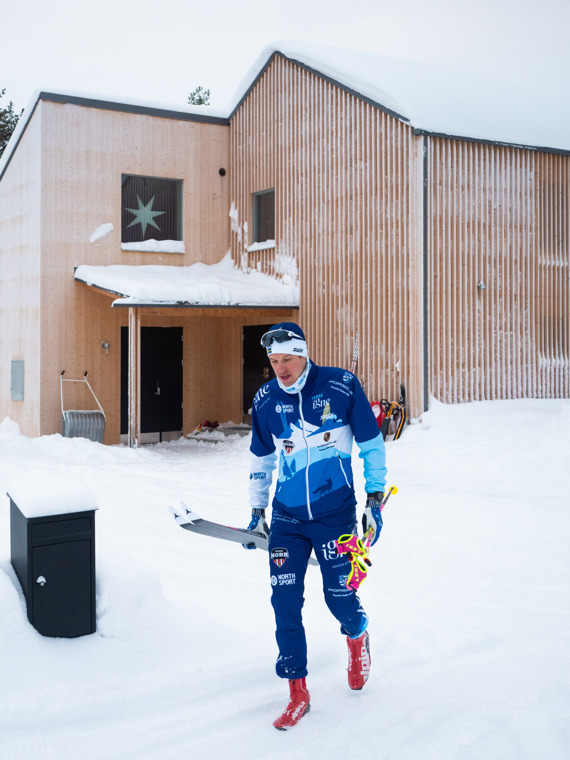 ONE OF THE WORLDS GREATEST LONG DISTANCE SKIER
Klas Nilsson has emerged as one of the world's foremost long-distance skiers in recent years and is in the middle of peak season. In the past two months he's crossed finish lines in Switzerland, Italy and Austria as one of the top 20.
- I started competing when I was around 10 years old and then I went to the skiing high school in Lycksele, but it's only in recent years that I decided to go professional. This season is by far the best season I've had. 
Klas has just turned 33 and I can´t help but tease him and ask if he's reached the peak of his career.
---
"If you could buy sandwiches and hot chocolate right here then Skellefteå would be the perfect cross-country skiing resort."
---
His comeback is delivered with a grin:
- It takes time to be really good at long distance cross-country skiing. Many in the world elite are 45 years old, so I'm only in the beginning of my career. There is a lot of rutine and strategy involved in long distance, and the body gets thougher through the years. 
We´re walking together along the path towards the illuminated ski track where the other skiers enters the track. The sun is shining, albeit low. It is only March and the sun is scarce here in the north during winter. 
- What do you think about Skellefteå as a cross-country resort? I ask. 
- The track at Vitberget is great, one of the best in Sweden I would say. There is something for everyone: both easier tracks for families and exercisers, as well as though and hilly tracks for those of us who wants it. A lot of nice slopes have gorgeous views where you skii with the city as your background and..
Klas takes of in the middle of his sentence, and runs towards a small timber barn at the start of the illuminated ski track.
- Did you know that they have placed a heating cabin here? He shouts over his shoulder. He greets a couple of skiiers that are just about to head out onto the tracks and dissapears into the barn. I follow him in. The barn is old and the floors are sloping. Some tables and benches are positioned in the far back and are illuminated by the light from a window that locks onto the tracks. 
- If you could buy sandwiches and hot chocolate right here then Skellefteå would be the perfect cross-country skiing resort, he says and laughs. And a roller ski track in the summer would have been nice too.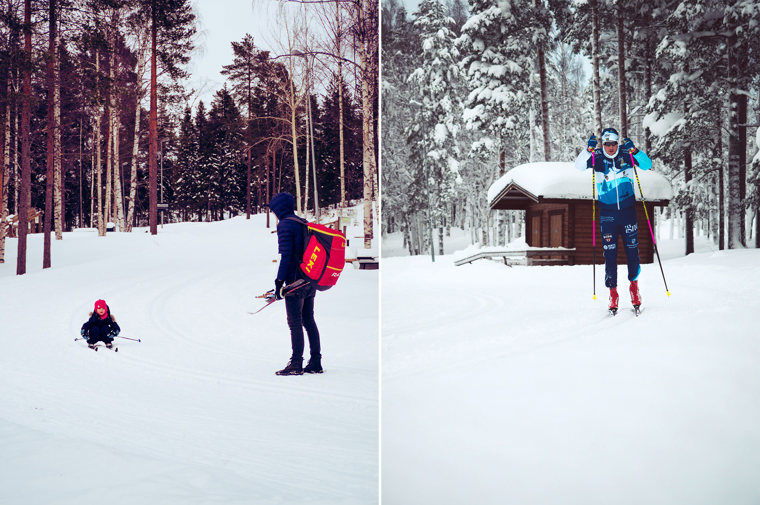 A FAMILY AT THE BASE OF THE MOUNTAIN
Klas is not only building a home here, but also a family. Him and his partner Johanna has two children; two and four years old as well as a third one on the way.
- We're expecting in april, he says. I really enjoy to spend time in nature together with my family and the kids. To be able to give them the same experiences that I was given as a young child, and I hope I will be able to spend even more time at home.
You see, not only is he skiing but in the summer he likes to practice and compete in cross-country running, he goes kayaking, and he also surfs during the autumn.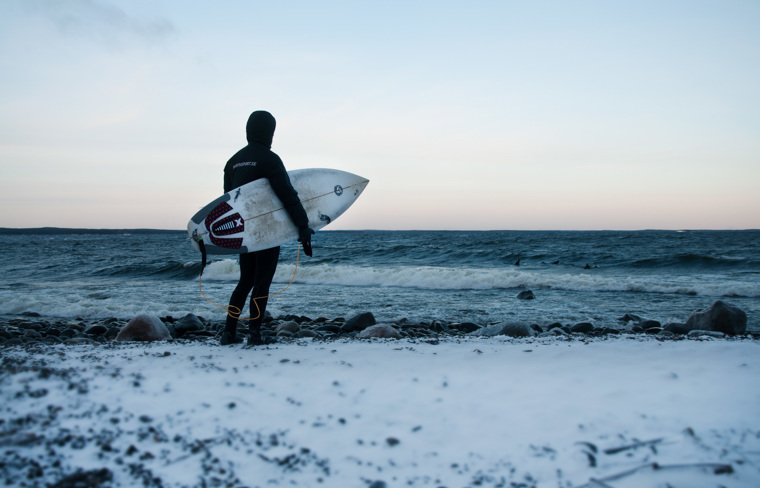 SURFING UNTIL THE ICE FALLS
– You're surfing abroad then, there's no surfing here right? I ask.
- No no, there are several nice spots only 45 minutes away from the city, and a lot of them are secret. There are many amazing beaches here that people don't know about. We're a bunch of people that surf from August to November. I have to focus on my skiing after that, but a lot of my surfer friends continue until the ice falls. 
We're walking towards Klas house again, and I'm starting to get cold in my thin down jacket. Isn't it freezing to surf in the waters up here?
- We have thick wet suites, hoods, gloves and shoes when we surf. The face is the worst actually. Sometimes there are large icicles hanging from your mustache and eyebrows when you get up from the water. 
We're back from our walk and are finally getting in to the warmth, and in to the atmosphere of life with small kids. Johanna has picked the kids up earlier today so that the whole family can go into the forest together, gather around the fire and eat a snack outside. 
- Do you want to tag along, eat a hot dog? Johanna asks me. 
- Well, I guess I have time for one hot dog. 
I spend enough time in the office as it is, I think to myself. If Klas and Johanna can take a second to relax then so can I.