A gastronomic journey from Iceland to Bryggargatan
"When we closed Bryggargatan in Piteå to make a change to a new location, we looked at a number of different places. Among others, Stockholm, Oslo, Paris and the Loire Valley. But when we, two weeks before the decision was to be made, by chance stood at Bryggarbacken in Skellefteå and were asked: 'If you could choose any place to build a new restaurant, where would it be?'. The Bryggargatan concept would be taken to the next level at Skellefte älv and Bryggarbacken."
-Jon Oskar, chef and founder of Bryggargatan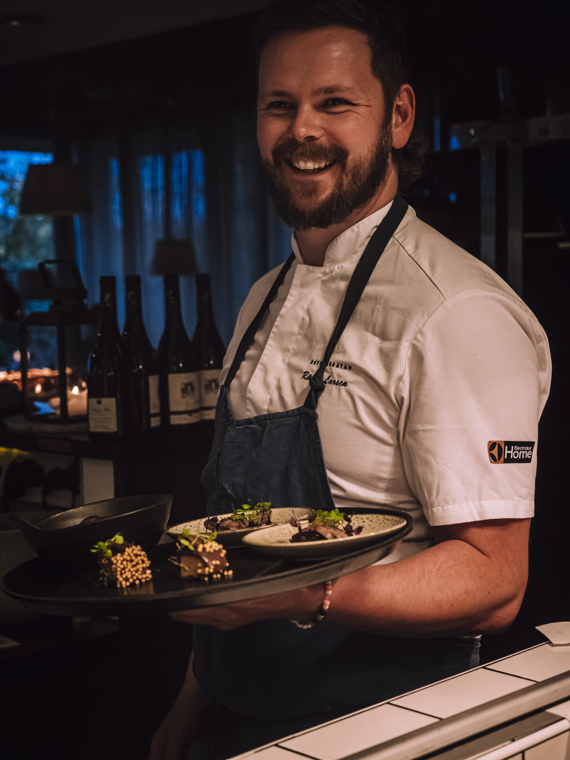 I'm let in through a back door of the restaurant by a smiling Rúnar.
- Welcome, he says and guides me into the restaurant that I have visited so many times. He is wearing chalk-white chef's clothes with short sleeves and a feverish activity is going on behind him. I see Sarah and Jon Oskar, the other two owners, in the kitchen with the other staff. They have full focus on the ingredients in front of them, on ovens, serving dishes, bowls and saucepans. Everything that will now be coordinated and used in the coming hours.
The restaurant by the river's bank is called Bryggargatan and I'm on site to talk to Rúnar and Jon Oskar about their gastronomic journey, which began in their home country Iceland about 20 years ago. To talk about local ingredients, food culture and hunting.
The calm before the storm
Rúnar and Jon Oskar take their time. We sit down together on one of the sofas inside the cocktail bar.
- How does it feel now then, I ask spontaneously and think that they are probably quite stressed considering what awaits.
- It feels good. We love this, and most of the preparations have already been made, says Jon Oskar and leans back on the sofa.
- We were here until two last night and made the final preparations, he continues. It's not possible to leave that until the last hour, and our chefs have full control out there in the kitchen so it actually just feels fun right now.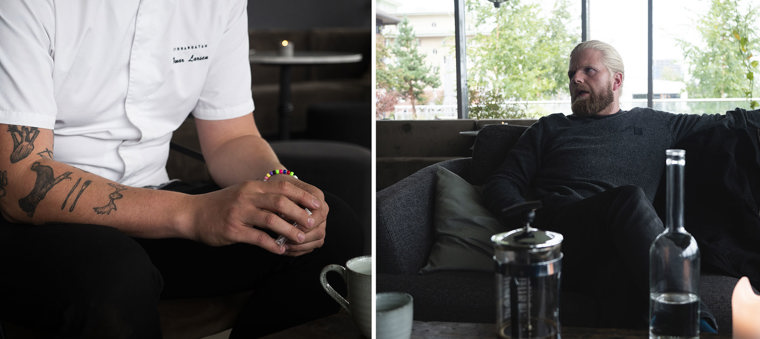 Every time I meet Jon Oskar or Rúnar, I am struck by the calm they both possess. They talk calmly and thoughtfully. Does not say much unnecessarily. I wonder if it's just a personality trait or if it's a cultural thing.
Both Jon Oskar and Rúnar grew up in the countryside in their respective small communities in Iceland, and I ask them to tell me a little about how their journeys as gastronomes and chefs began.
- I actually had the ambition to become a photographer, says Jon Oskar, but did not get a place as a photography apprentice. However, I entered the culinary education in Iceland. I later completed my education in Oslo at a conference hotel, and here and there I set the level of ambition after having worked with several Norwegian national team chefs. Then the career went pretty straight up. I was probably only 24 years old when I first became a chef, he says and thinks about it.
- No, by the way, I was 23.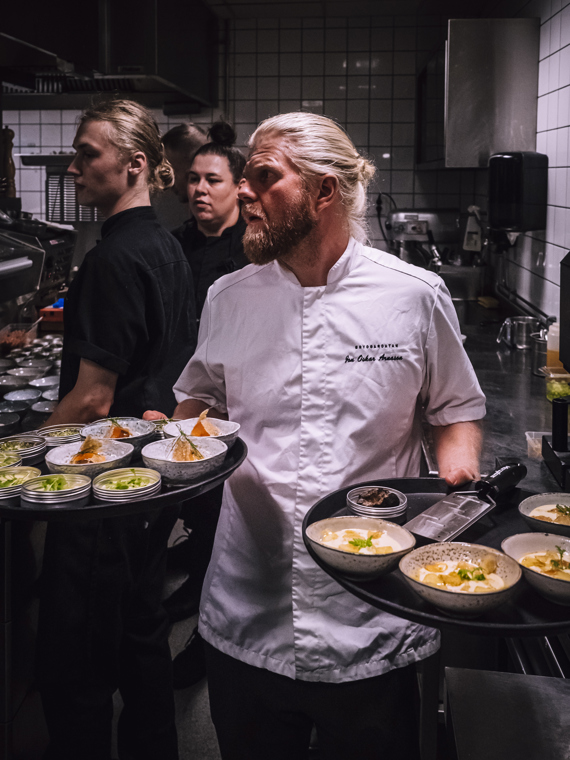 Rúnar sits leaning forward with his elbows on his knees with a cup of black coffee between his hands. His forearms are covered in tattoos. Fennel, capercaillie, lobster. A chef's knife and an old classic scale. Around one wrist is a colorful pearl bracelet with the letters P-A-P-P-A on it.
- And how did your journey Rúnar start? I ask.
- When I was 13-14 years old, I decided to become a chef. A few years later, I completed my cooking education in Iceland. A really demanding education that ends with a large final exam divided into a hot and cold kitchen. After the training I competed a lot and was i.a. captain of the Icelandic junior national team at the World Cup in Scotland, and came 3rd in the Icelandic Chef of the Year. At the beginning of my career, I worked as a chef in a small place in Akureyri.
Since I know that Jon Oskar is a couple of years older than Rúnar, I put the puzzle pieces together in my head.
- You did't meet in Iceland then, I ask.
- No, but we had common acquaintances in gastronomy in Iceland, says Jon Oskar, so when Sarah and I started Bryggargatan, we hand-picked talented chefs from Iceland and Norway, and that's where Rúnar came into the picture.
One of their colleagues interrupts us cautiously. Jon Oskar and Rúnar are needed in the kitchen. We get up and Jon-Oskar goes and changes into chef's clothes before we join the team that is just preparing the four 'starters' who are going to the tables first of all. Outside, the first guests have begun to gather.
Jon Oskar hands me a small portion with what he calls Smoked potatoes from Kusmark with black truffles from Piedmont, beautifully presented in a small bowl. The dish is decorated with tagetes on a white fluffy foam, and I ask what the foam is.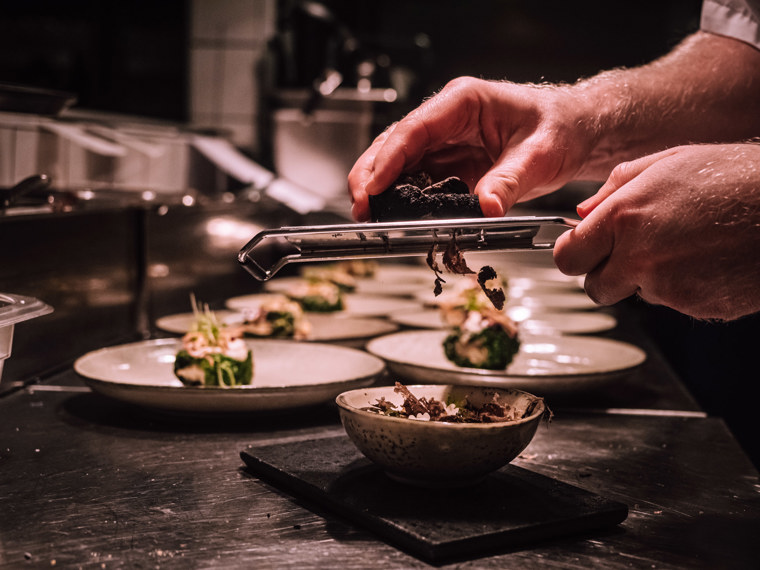 - It's the smoked potato, he answers, and smiles when he sees my puzzled face. Over the dish, he finally tears the truffles before I take my first bite, and understands, from the taste, that the foam is actually smoked potatoes. Potatoes in a form I have never tasted before, and it tastes divine along with the truffle.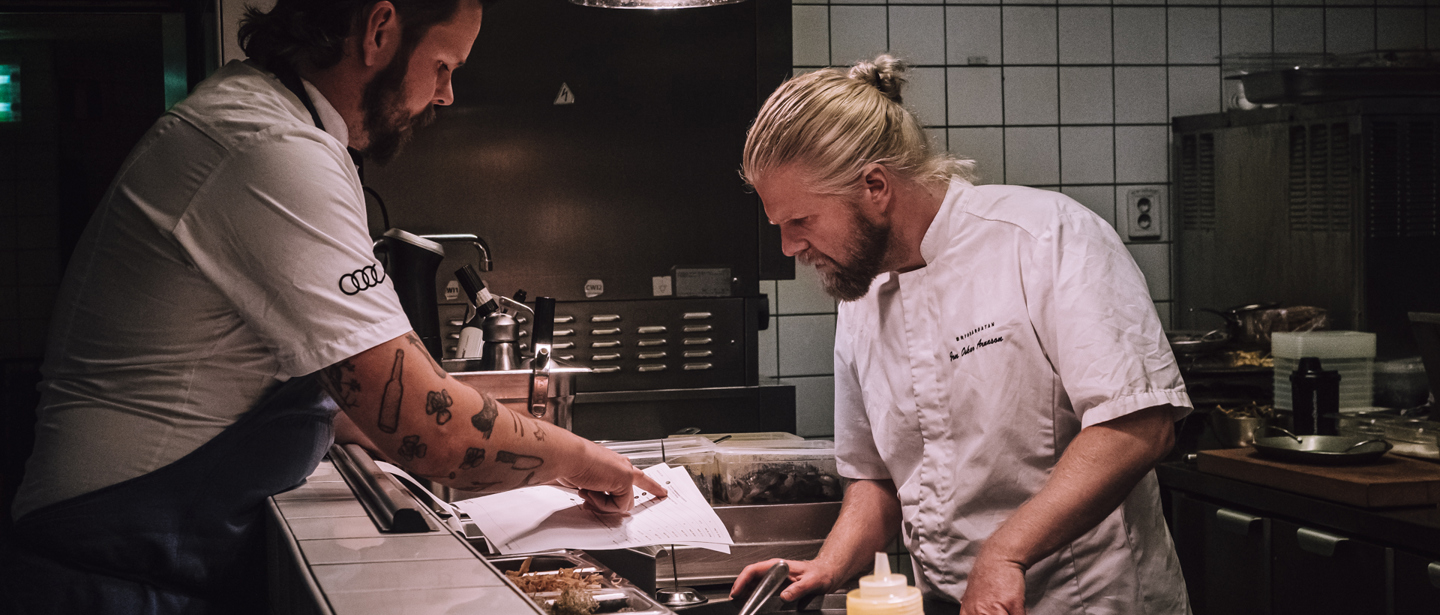 The premiere is now
When the clock strikes 16.00, the doors open and the first guests fill up both the tables and the cocktail bar.
- Why northern Sweden, I ask them both when they return from their servings and for a short while stand and hang over the counter towards the kitchen.
- The raw materials! Rúnar answers directly, and Jon Oskar fills in:
- When we were to establish our first own restaurant, we thought about which ingredients we thought were the most fun to work with. Wild berries, roe, game and bird. Lots of herbs and roots too. Virtually everything we needed was up in Norrland.
- We also hunt pretty much everything you can hunt, both in the region and in the whole country, explains Jon Oskar. Wild duck, elk, wild boar, deer etc.
- We also have several people here locally who pick mushrooms, berries and special products such as reindeer lichen, elk herb, yarrow and resin acid, Rúnar fills, while he hangs over the counter and picks up ready-made dishes on his tray to prepare the next serving.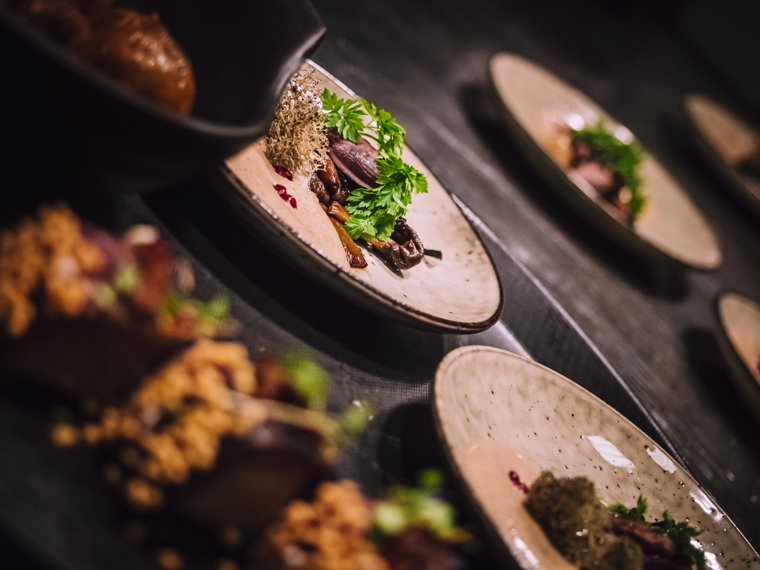 I think that they must be missing something here in Sweden after all the restaurants they have probably visited and experienced around the world.
- In Iceland, all the week's cooked meals were, except maybe one or two, based on seafood, Rúnar explains. So the supply and quality of fish from Iceland is something that I really miss. When we have imported raw materials from home, it is usually fish and lamb, he says while he puts the grater and truffle mushroom on the tray and disappears between the tables.
A region in gastronomic development
The first main courses are now starting to be carried out. Blueberry pickled reindeer thighs. Smoked rib breast from Servvetjåhkka. Fried Jerusalem artichoke. The dishes are garnished with colorful leaves, herbs, lichens and roasted nuts and seeds.
Runes come back with a dish from the restaurant. A customer forgot to tell me that he is allergic to hazelnuts, and Rúnar stretches over the portion to me.
- Wild duck, served with black cabbage-wrapped rosemary, before quickly preparing a new one for the customer. I'm taking my time. Puts aside the camera to enjoy the fantastically tender spirit with cherry sauce curled over.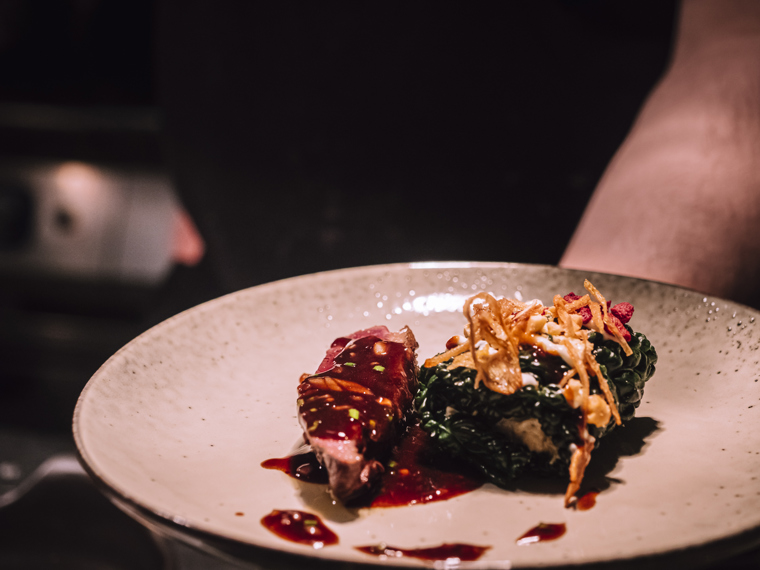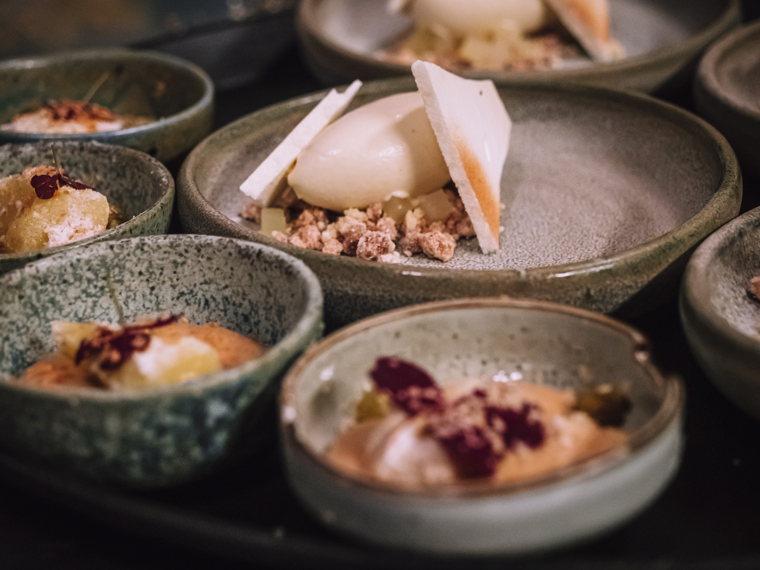 The clock is approaching 19 when Jon Oskar again gets a small gap and I take the opportunity to ask about Skellefteå's and the region's gastronomic journey.
- In the early 2000s, we unfortunately ate better food at home with our friends and relatives than at the restaurants along the northern coast, he says without smiling, so there was really a great opportunity to develop gastronomy here. Thankfully, a lot has changed. Together with a couple of other restaurants in the neighboring towns, we have moved the positions forward a lot since then. Trained many chefs, but also our customers who learned to appreciate dishes such as beef tenderloin and raw beef.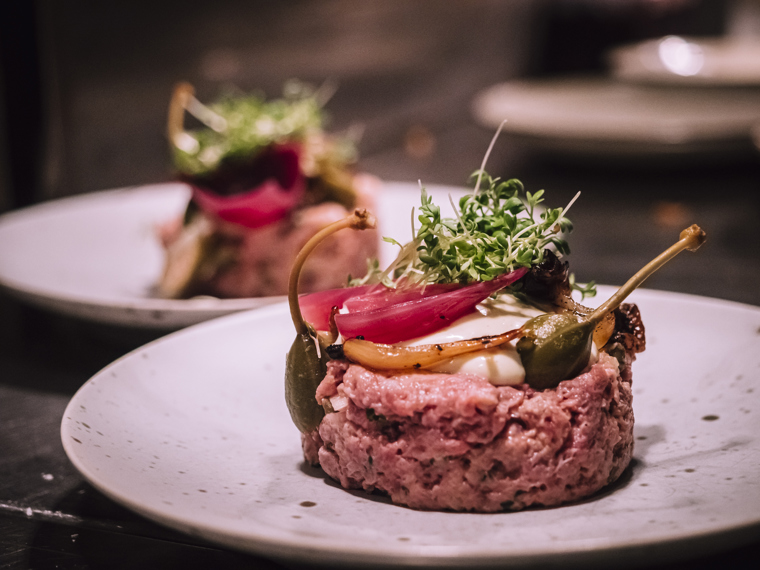 - Our ambition is to always be able to exceed the guest's expectations and stand tall, says Jon Oskar and laughs before he again loads a tray full and goes out among the tables. I myself start packing my things.
- Are you already on your way? asks Rúnar when he sees me stuffing the camera in my bag.
- Yes, I actually have what I need, I say while putting on my jacket.
- No, I think you need one more thing, says Rúnar and smiles before him and gives me one last taste of Autumn Apple from Mobacken. I thank, munch on the dessert and leave Bryggargatan satisfied with a longing to share this unique experience.