Pike fishing in Svansele
We are in the small village Svansele, located on the northern bank of the Skellefteå river, 50 minutes drive from the coast and the river outlet. Here is a widespread wilderness with deep boreal coniferous forests and many beautiful lakes and streams. There is a lack of crowds, noise, and everyday demands. Svansele is the definition of calm.
Two tired fishermen
Outside the Wilderness Exhibition in Svansele we find two exhausted fly fishermen named Matilda Leijon and Hannes Ribbner. They are not Svanselebor, Västerbottningar or Norrlänningar. Still, they are in Svansele for the second time this season as the pike fishing here has proven to be exceptionally good. Why are they exhausted even before lunch? We will return to that shortly.
Matilda comes from Lidköping and for her most things in life revolve around fishing. She has been fishing since the age of 2 and often talks about her love for Norrland and the large Norrland pike that she has repeatedly managed to outwit.
Hannes is from Gothenburg. Until now, he has never had a relationship with northern Sweden. He has mostly fished in tropical waters and lives and works most of the year in the tropics.
- My plan for this whole summer was to fish in Panama, he explains and puts the polarizing sunglasses on his forehead. 30 degrees warm, mirror-shiny sea and 300 kilos of fish that break the surface. When the pandemic struck, Matilda suggested that we go to Norrland instead and I was hesitant at first. Now I am sitting up here in Norrland for the third time and in Svansele for the second time this summer. So it grew fast. The love of pike fishing. It really has its charm, he admits a little reluctantly.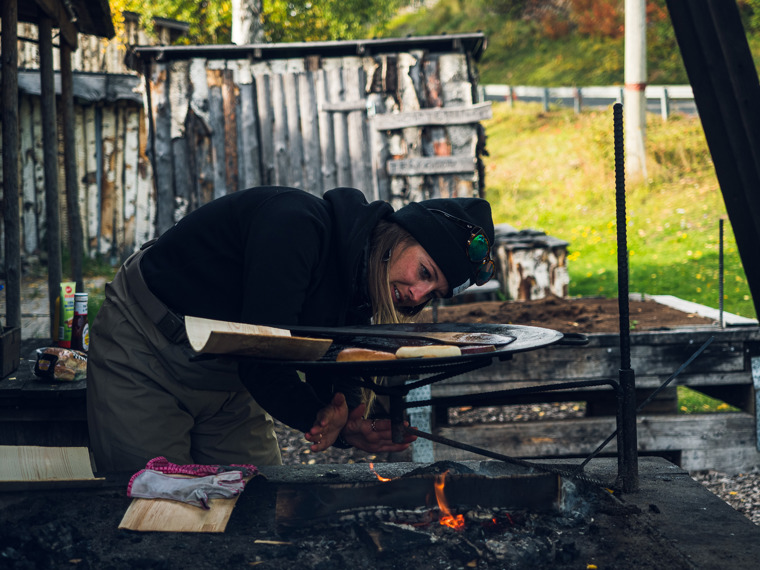 Two seasons, the same fishing happiness
The first trip to Svansele took place over the midsummer weekend. Then Matilda and Hannes made a classic tent and storm kitchen trip together with a third friend named Johan.
- Do you remember the first night? says Matilda and turns to Hannes.
-Yes, it was completely crazy then. 30 degrees hot both day and night. T-shirt and shorts all the time and yet almost unbearable.
-Exactly, and bright around the clock, Matilda fills in. It was not easy to sleep and the mosquito repellent became our best friend. But oh what we got fish! The first evening I pulled a 95 cm pike and Johan one of 105 cm.
Matilda's eyes glow when she talks about fishing.
Now it is, as I said, September and the couple has this time opted out of the tent and instead stayed at Knutes Hotell in Svansele, nicely located just a stone's throw from the river. The weather is pleasant, it is mosquito-free, and it is now time to return to the fact that all three are exhausted already at 11.30 in the morning.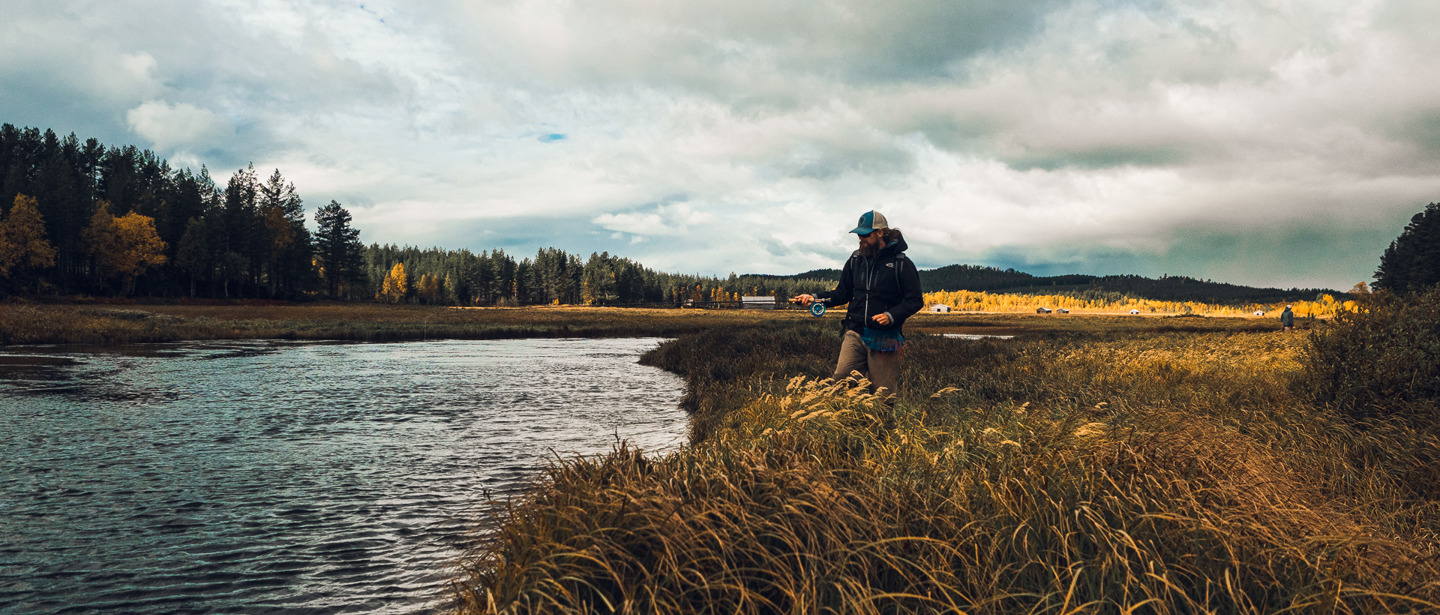 Record fishing
Fishermen seldom take the morning off. They fish when the fish are nibbling at their best, and sleep and eat when they are not nibbling. Just this morning, Matilda set the alarm at 05:30. The trio's plan was to paddle out into the Skellefteälven river in their floating rings at sunrise.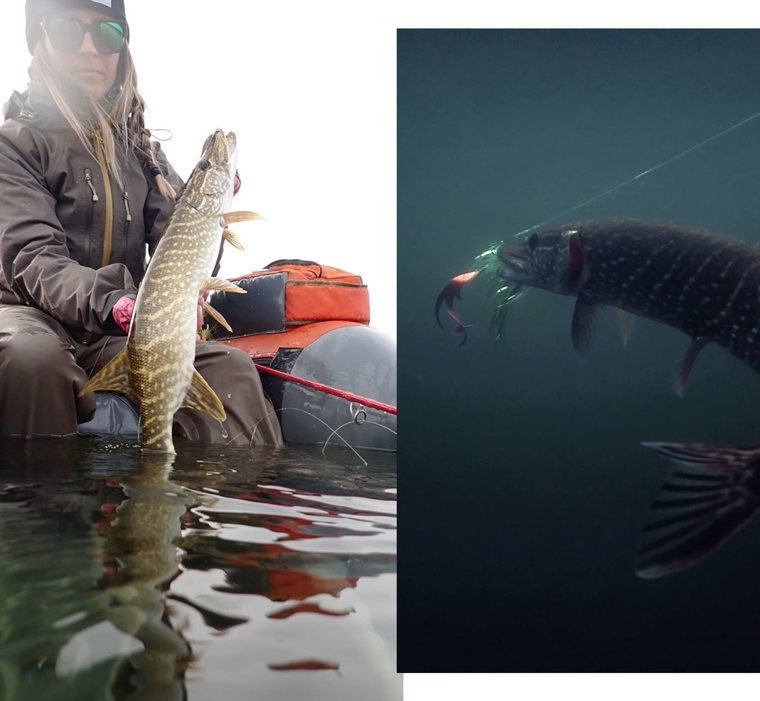 They both fish with fly rods and special pike flies that they tie themselves. Just this day, the wind pushes in the same direction as the current in the river so it turned out to be a really heavy workout for the leg muscles, as they have had to paddle constantly. When it also turns out that the fish are hungry this morning and the trio can be tampas with pike as big as horses, it will be a rather demanding training session.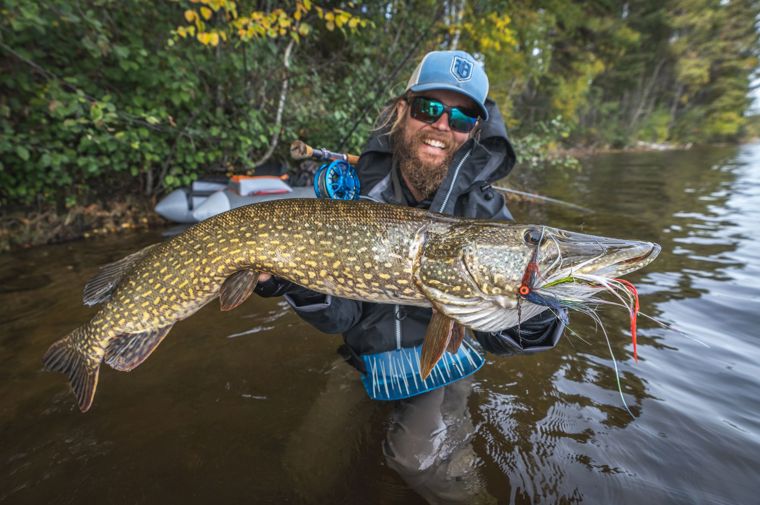 - Despite the fact that we have had lots of fish in recent days, you always hunt for an even bigger one, Hannes explains. People are longing for the next fight, so we paddled out to a deep channel this morning that we had identified the day before, but oh we had to paddle. Constantly. It was crazy heavy in the legs. But just a few minutes later, my stuff sucks, and up comes the biggest fly-fishing pike ever for me. 110 cm long. Crazy! I'm really super happy.
In fact, Matilda's record for fly-fished pike is 111 cm. 1 cm longer than Hannes. Something she reminds him of, with a sly smile on her face. The northern pike fishing has become a bit of her hallmark.
A cup of brewed coffee and a large pike after lunch
- Population per pike will be lower the further up in the country you get, and the fishing pressure on the pike is not so hard up here. Therefore, the pike's curiosity is great and the chop extra aggressive. Norrland is actually recognized for its brutal forest pike, says Matilda and smiles with her whole face. Where you find the Norrland forest pike, you will also find me.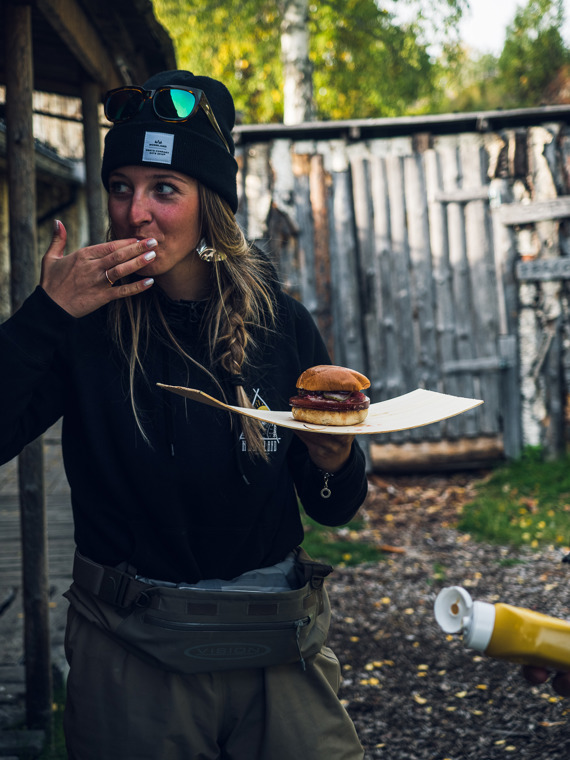 - But in a minute you will find me, albeit temporarily, back there with the hamburgers, because now I'm so crazy hungry, Matilda continues before she stands up and trudges off to Jonathan.
-Yes, a hamburger, a cup of coffee and a big pike after lunch, that's the plan now, Hannes fills in before he also joins the lunch rush.