Live in the moment with Fredrik Jonsson | #MySkellefteå
- Drive 3 km in from Burträskvägen. You will see the horse stable on the left and the house on the right. If you come to the riding arena, you have driven too far!
I got the directions from Fredrik Jonsson who lives in the country with his husband Micke, two cats, four horses, three peacocks, lots of chickens and thousands of bees. I sit in the car and am nervous. Not to meet Fredrik, but to meet the horses. I'm allergic to horses.
We will talk about living in the present me and Fredrik, and about life in Bodan of course which is only 15 minutes from central Skellefteå. There I pass the riding arena! Shit. Iäve gone too far.

Fredrik about living in the present
- It's been a trend to be in the present. Mindfulness, yoga and different methods, but I don't really think you have to make it so difficult, Fredrik explains.
We sit on his terrace and sip on freshly brewed cup of coffee and look out over their garden and the beautiful Bodanträsket which is completely still. I have filmed in the stable for half an hour and accompanied them on a horseback ride. The allergy is there, but not as dangerous as I thought. They have a large farm with horse stables and a large barn where the hens and peacocks live.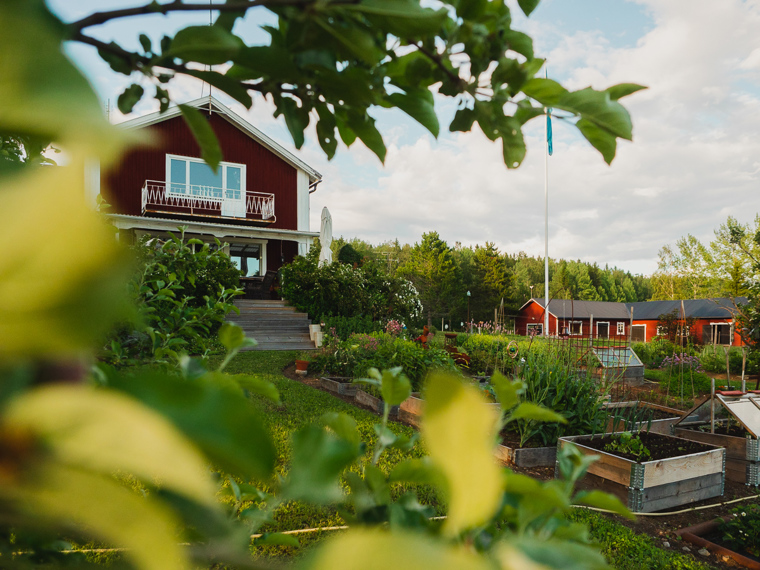 - You're always in the present, it's just whether you can take care of it or not that matters. My best tip is to just sit somewhere and stare. To stare at people, or out over a lake or meadow and just take in what you see there and then, he explains.
I glance over Fredrik's shoulder and out over the water that is completely still this evening and think: I would like to sit here and stare for a couple of hours. But now I will be in the present and listen to Fredrik story. Not stare at a lake.
- The garden is also crazy good! he continues.
- So, gardening is very much about being in the present. You can not force plants. Then you have to be 'here and now'. What does it need right now to feel good? Does it need water, should I squeeze some lice to death, well it's going to die, can I do something? No, it died, says Fredrik theatrically and laughs.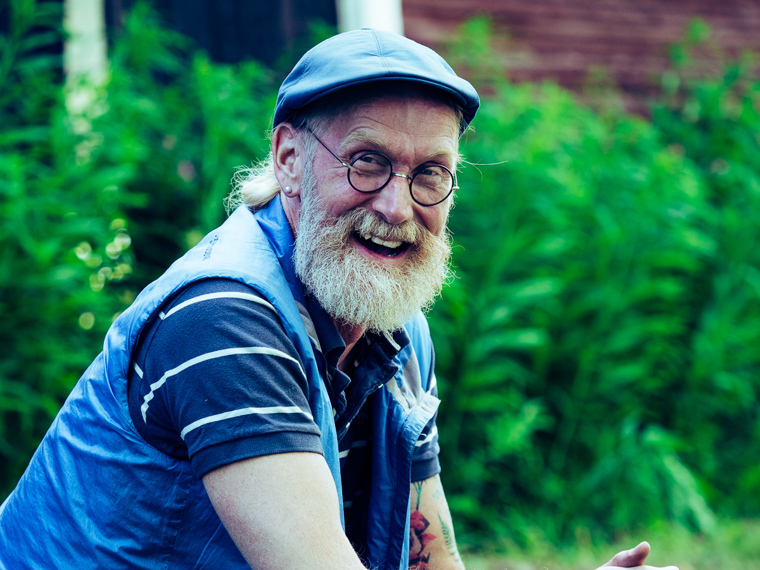 Fredrik about the horses
- The main reason we moved to Bodan was our interest in horses. Fredrik points away towards the stable, at the same time as we have trudged away from the house, over to the barn and into the chickens and peacocks that will get food
- My husband is a horse trainer and when I started working with horses at the age of 22-23, I wanted to start breeding, says Fredrik while he sets food for the peacocks.
- We used to live on Moröbacke, which was also incredibly nice. That was before all the residential quarters were built, so we had quite large areas there as well, but not enough to conduct breeding, he explains.
Fredrik says that they have got two nice stallions after their breeding mare who recently passed away. A mare who turned 19 years old. A mare who was a family member. On the riding arena that I previously drove past, beyond the barn, a woman rides in stride and Micke, the horse trainer, stands and points and gestures.
- Sitting on a horseback is actually also a lot about being in the present, Fredrik explains and relates to what we just talked about.
- You can not slip away in the mind but must really be present with your horse. Otherwise you will fall off quickly.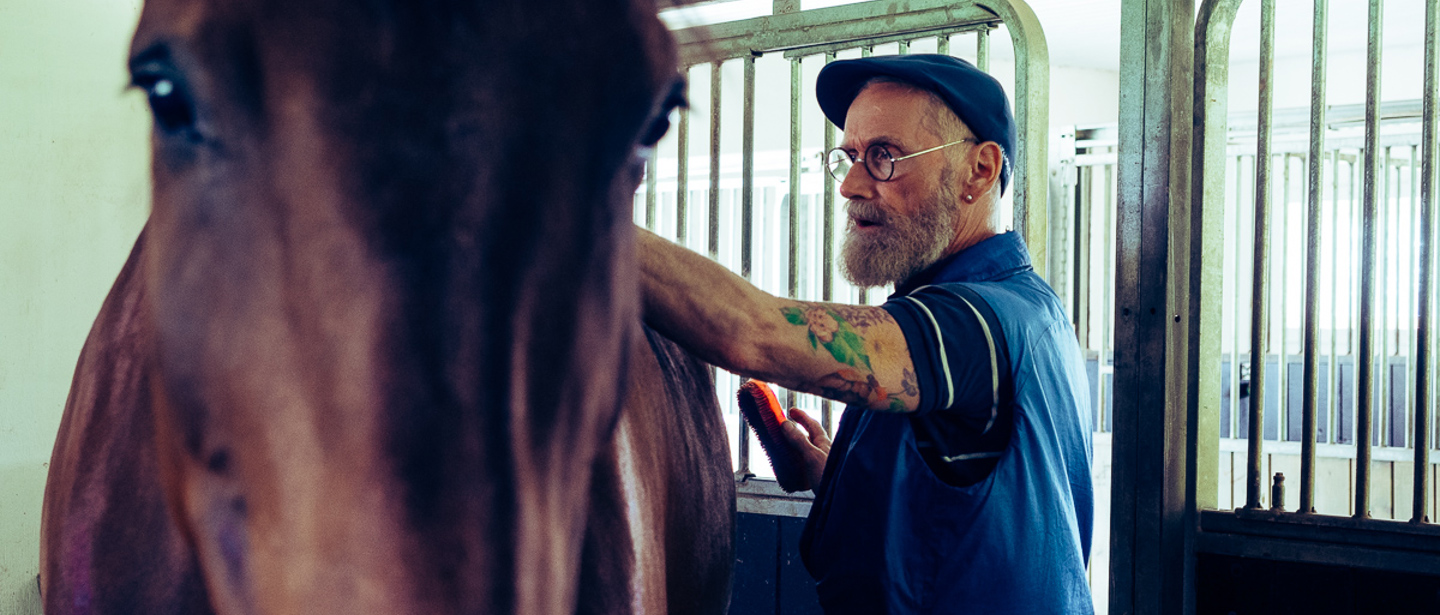 From Norrbotten to Västerbotten 
Fredrik was not born in Skellefteå, but in the slightly smaller neighboring town of Piteå. I ask Fredrik to take me back to the year when he left his old hometown for a new one.
- I moved to Skellefteå in the late 80's, right after high school to become a hairdresser. The only way to become a hairdresser at that time was to either get an education abroad or to go as a hairdressing student, Fredrik explains. A proper beard adorns his face and his hair is tied in a sloppy knot.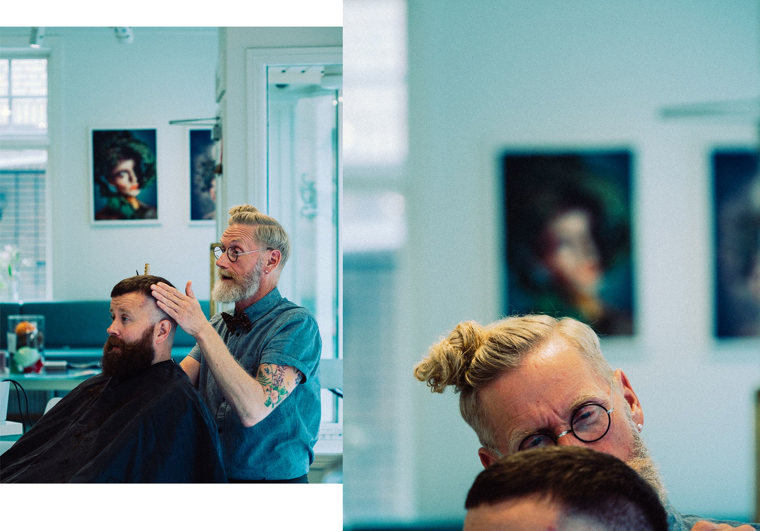 - There was no good salon in Piteå then, so I applied to Huvudsaken in Skellefteå and when I was a fully trained hairdresser I thought; But I will not stay in Skellefteå, I will go out and see the world, but everything went so easily and quickly here. I made money fast, had a villa, a doggy and a Volvo…. yes, even my own company before I was 25. I have received many job offers down in the metropolitan areas over the years, but will I ever be able to get such a good accommodation down there, 10 minutes from the city? No, that's completely unreasonable! I'm staying here! he says and smiles big.
- It may sound boastful but, people should really be jealous! Sometimes I think, how can you choose NOT to live like this!
We end our evening together at the hives, which are lined up just behind the barn. Staring a little at the bees buzzing around us and the few people who pass up on
- Now I'm probably in the present, I say.
- You only know that yourself, Fredrik answers and smiles.