LisaLove – Create with me in Skellefteå!
- I don't know if you will like this, I say and look a little anxiously at Lisalove. Some yellowed birch leaves fall softly to the ground while I scroll her Instagram feed.
- I can't help but think of Alice in Wonderland, I say, and perhaps especially Tim Burton's film adaptation with Johnny Depp as "The Mad Hatter".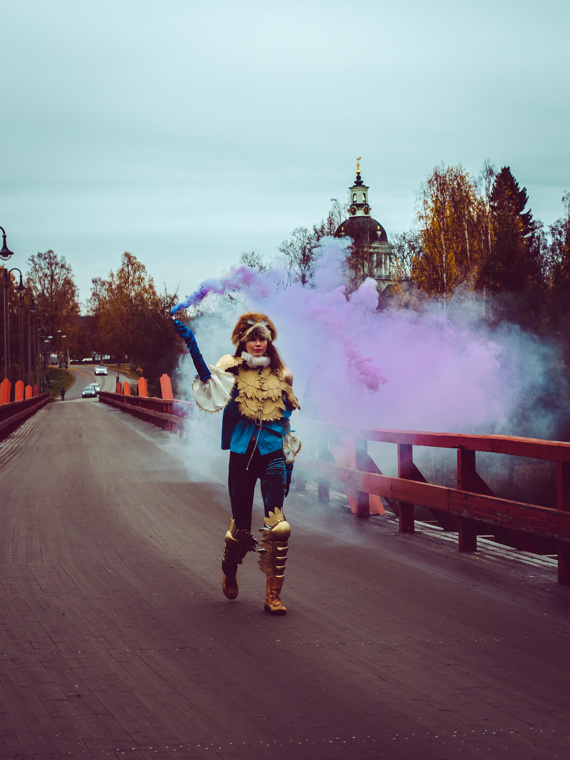 - I don't know, she says a little vaguely, I hear that a little now and then.
- And what do you think about it?
- That I should read a book or watch a movie so I can relate to the reference. Now I do not really know what that means.
Perfect fever dream
Yes, I know it can be perceived as rude to compare artists and their work with other things, but I can't get around the fact that Lisalove's art makes me feel a bit like tumbling into a rabbit's hole. Aesthetically, I think I see some points of contact with Lewis Caroll's saga from 1865. Not least in that boundless, imaginative and surreal. You know, that tickling feeling that anything can happen and that what is happening is not entirely positive. A bit like a perfectly balanced fever dream.
- I think it is important not to be too obvious, says LisaLove.
That creates a nerve in LisaLove Bäckman's art photo. You linger in her pictures and like to get lost in layers, shades and moods.

Changed creative process
In 2014, Lisalove began to find the way she describes the world with today.
- I have never had a plan or vision with what I do. I have been taking photos from time to time since I was a child. Tried to take company portraits and shoot weddings but did not quite land in it.
LisaLove's first collage picture, which she felt happy with, came in 2014.
- It was me at a black grand piano at Stiftsgården in Skellefteå.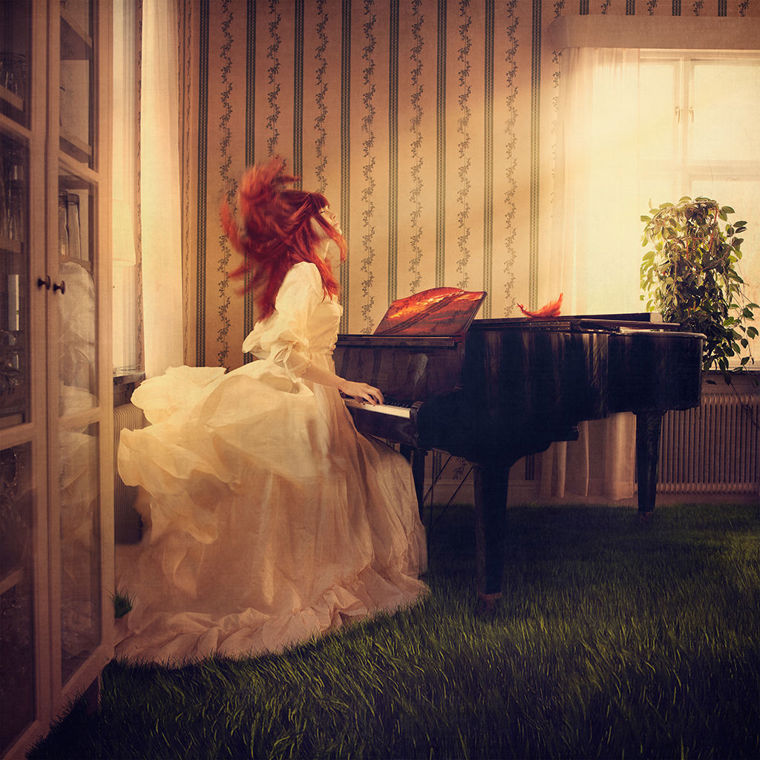 She describes the creative process and how it has changed over the years. Like it was fast at first. On the verge of sloppy.
- That was what I needed then. I had such a great need to be in a creative state. Continuously. New pictures. Constant ideas. There was something manic about it.
- Like on drugs?
- Well, maybe, but it was also a way to deal with anxiety. I felt incomplete when that drive to create disappeared. Now I know that this is how it must be and I like to rest in the knowledge that the desire to create comes and goes.
Let your thoughts fly
- Where do you get the ideas?
- My best tip is to stay in bed in the morning, keep closing your eyes and let your thoughts fly free. Then anything can happen. Just remember to have something to sketch on. Thoughts are fleeting and easily lost.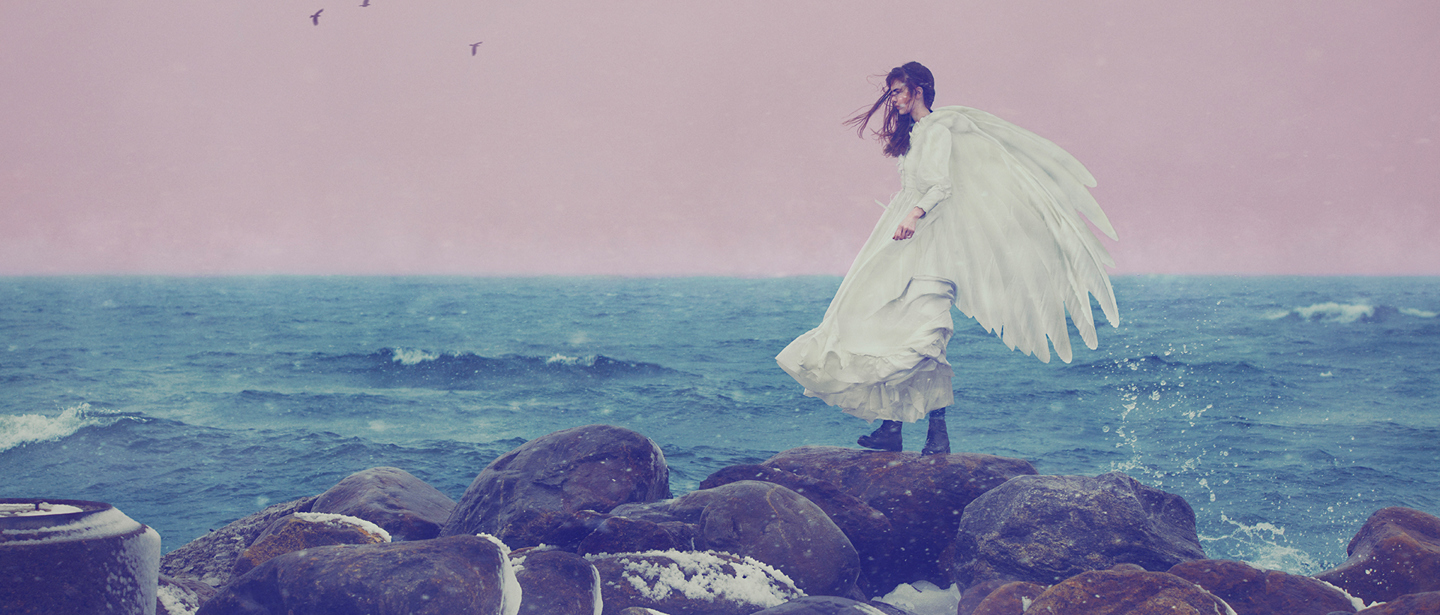 Far from all ideas are realized. Most are rejected, not infrequently because messages become too obvious.
- Who is it really in the pictures? I wonder.
- Good question. They are not alter egos or characters. In a way, all motives are part of me, but I dislike when my everyday self becomes too clear. Then it gets boring. I see my body as a tool. When it gets good, there is always some kind of distance between the work and my exterior.
She stops and then continues:
- Yes, that dog may have become a kind of character. And my rabbit Gudrun is also recurring in several pictures.
- Like a certain white rabbit in the west and with a clock, I insist and google a picture from Alice in Wonderland.
She laughs.
- If you say so.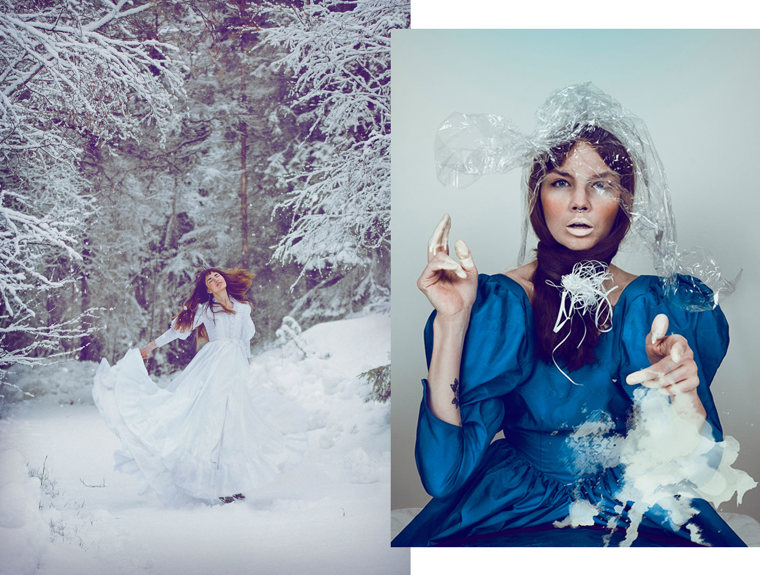 The process
Lisalove says that she still bases much of her creation on not feeling so well.
- It does not mean that I have to feel bad when I create, but I like to dig into the darker sides of myself. Now I also do not have the same need for things to go fast. I enjoy making more elaborate pictures.
- How does it work, I wonder. The process itself?
She's delaying. Thinking about it.
- It looks different. Nature is very inspiring. Desolate houses super interesting. There is already so much in the walls. Stories. Fates and events. There, it is up to me to take in and interpret what I experience. I can return to such places many times. A white wall is something completely different. Like a blank piece of paper where I get the opportunity to fill in all the content myself. I often make simpler pictures with the inspiration of the moment. I wake up with a feeling, dive into the closet and see where my intuition takes me. Other ideas I can work with for a long time.
- You also use a lot of different props.
- I love flea markets but plumbing departments at Biltema or Jula can also be incredibly inspiring or, for that matter, the fruit counter at ICA. I like to build what I think I need. Large fabric jokes are great. The slightly more extravagant outfits like wedding dresses I usually search for on Ebay.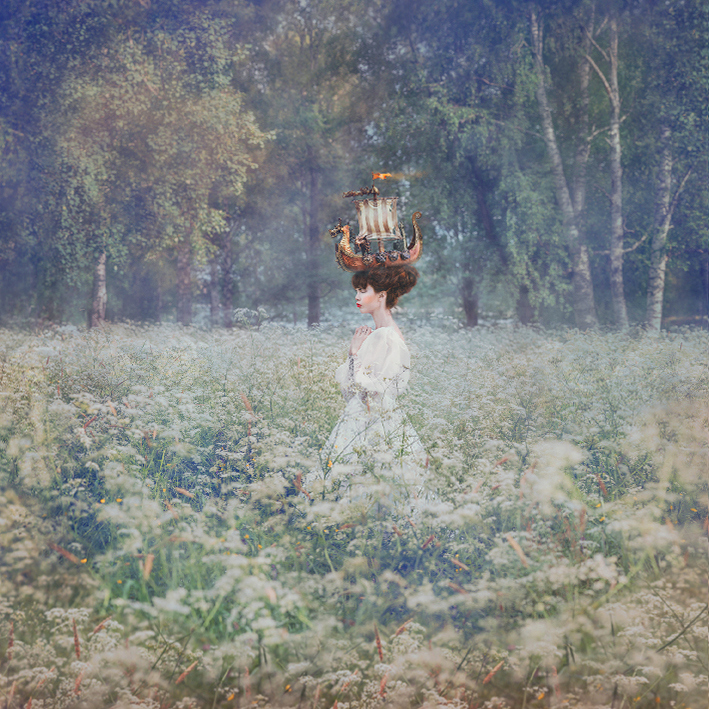 Idea to print
Lisalove is careful that she creates for herself. No one else. External appreciation is not lacking, however. In 2015, she became the photographer of the year in the magazine Kamera & Bild's big photo competition, in the autumn of 2017, fourteen of her works were hung out at Fotografiska in Stockholm and her Insta account is followed by 12,000 users. But confirmation and attention, she says, are not unproblematic.
- To be in the center is not something I am looking for. Yes, I'm active on Instagram but that social media confirmation feels empty. Instead, it is when someone buys a work and hangs it on the wall that it feels really good.
- When someone is in a situation where he/she can relate to my work and also takes the time to tell me. It's huge. But it is above all that process from idea to finished print that is the real satisfaction.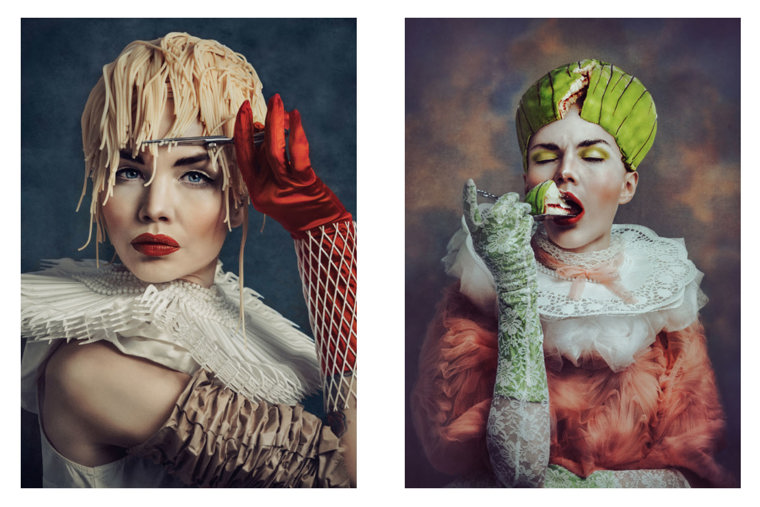 Lots of freedom
Just over two years ago, Lisalove moved back to Skellefteå. One of the reasons was the freedom to create.
- A larger area with fewer people gives me lots of opportunities, especially to create outdoors. Here I can almost always be at peace. That was a big part of why I chose to move back. There simply was not the same place for me where I was.
Her creative process means that Lisalove is sometimes forced into awkward situations. Little adventures, as she calls it.
- Should that idea I have in my head become a reality, there is no other way.
She says that just a few days before the interview, she stood half-naked, wrapped in a climbing plant while passing cars cast curious glances.
- Then it's just a matter of endure, she laughs.
Another time, Lisalove had decided on a motif with a winter bath in Baggböle, outside Umeå. It did not go any better than that, after balancing the camera and tripod on an ice floe, she immediately dropped the remote trigger into the water.
- In addition, I got stuck in the car and had to walk, cold and wet, the four kilometers home.
Tick, thank you
She's looking at the sky. The sun is setting lower and lower on its orbit. Lisalove does not have time to stay long. She has discovered a tree root on the outskirts of the city. It is such a root that makes the thoughts fly.
- It's dark and gloomy, she smiles. I also found some flowers growing on a rubbish heap near where I live. I think the root, the flowers and I are just what I need. Right now. You know, I'm glad I live here.
I myself key in on Instagram. Tick, thank you, tick, thank you. Time passes. I'm thinking of the white rabbit. The one who is always in such a hurry. And what we ourselves choose to do with the time we are allotted. I am looking for the account lisalove.se.
- Follow the white rabbit.
Thumbling down the rabbit hole again.