Staycation in Lövånger Churchtown
It was the end of May and I had so many strange feelings inside me. The feeling of not having enough time was palpable and I longed for extra family time. I closed my  work computer a little earlier than usual and packed all our things in Volvo. Stroller, carrying backpack, games, clothes for all kinds of weather and gruel, of course.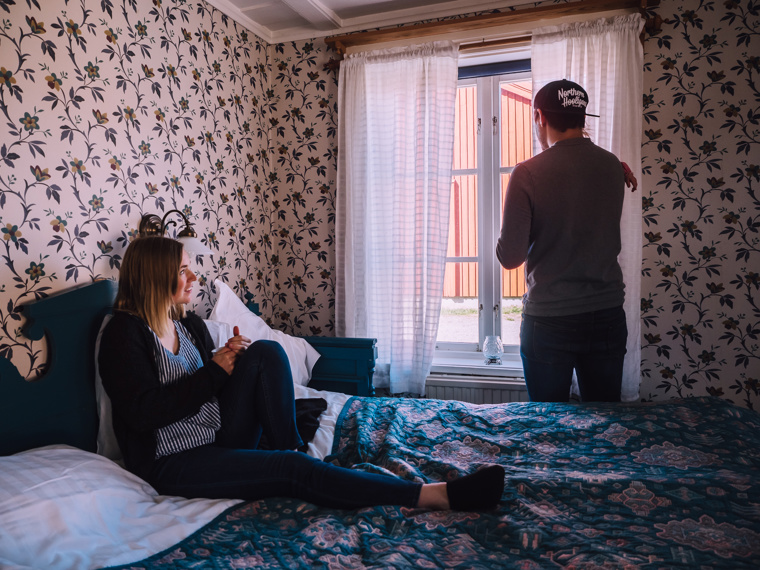 We drove 5 miles east. We passed the Västerbotten countryside on our way. Burträsk, Mjövattnet, Vallen, Mångbyn and finally we rolled into Lövånger. A place I never set foot in during my 28 years.
We knocked on the ocher yellow double doors to Lövångergården and one of the owners of the place, Emelie, opened. She gave us a quick tour; Here behind the house junction, just over the bridge there, is the nature reserve. Over here, the sheep will graze this summer. Here it will be afterwork and food tonight. Here it is renovated and here, yes here is your cottage.
She unlocked our little faluröda church cottage. Inside, time stood still; everything was so beautiful. In the window that stood open fluttered a sheer curtain. My shoulders immediately lowered, my heart rate went down. Here we could just.. be.
Everything was so beautiful. There is something about being in and around old buildings. How the times can be seen in the walls, on the floor, and has been carefully renovated and redesigned throughout the years. When you walk through the old church town full of cottages, you can almost see the community they create, the hope of the countryside and our beautiful north.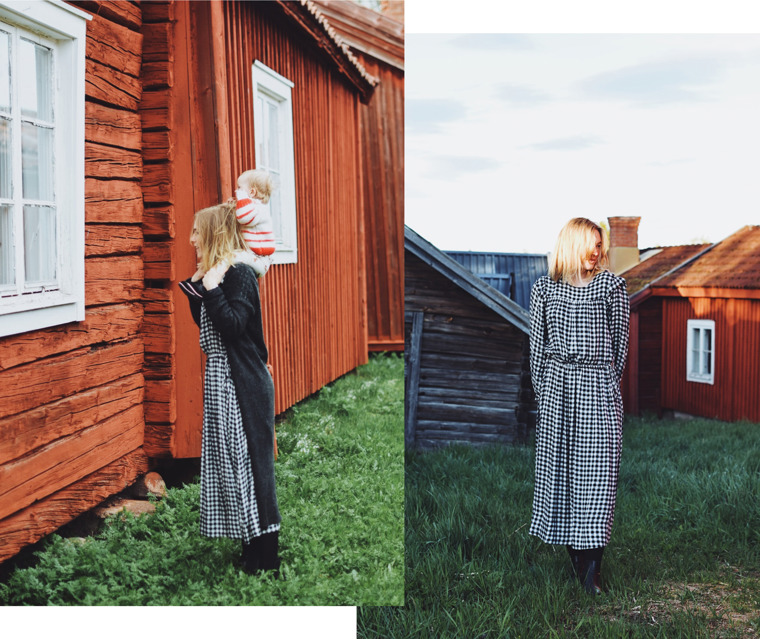 And finally we were together. My small family. Without the renovation, the animals, the work and the rest of life that demands attention and focus. Just us, talking about everything and nothing. Lo was so happy there and ran around between the cottages and picked flowers, climbed stairs and pointed to every single bird she could get a glimpse of.
Something I have become an expert on since I became a mother is to see the big in the small. You do not have to go far, at all. To discover the world. It is terribly exciting to feel a furry blade of grass against a cheeky cheek when you are one year old. Seeing the world from different perspectives, from mom's shoulders, upside down or lying on her stomach.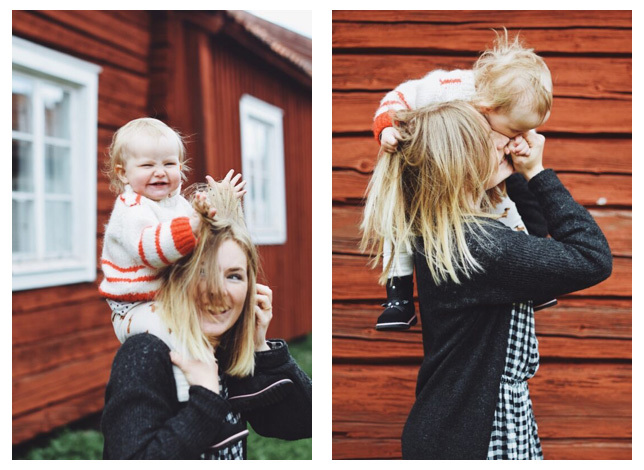 After lots of mischief between the church cottages, we returned to our cottage for a while. I took the opportunity to gather inspiration for our renovatoin upstairs. I loved the simplicity of the shoemaker's lamp, and the blue color against a patterned wallpaper. Fantastic.
The church cottage consisted of a bedroom/living room, a small kitchenette and a toilet with shower. There were kettles for gruel and tea. There were towels, bed linen and matches for maximum cosiness factor in the evening. Crockery, cutlery and everything else you might need during a stay.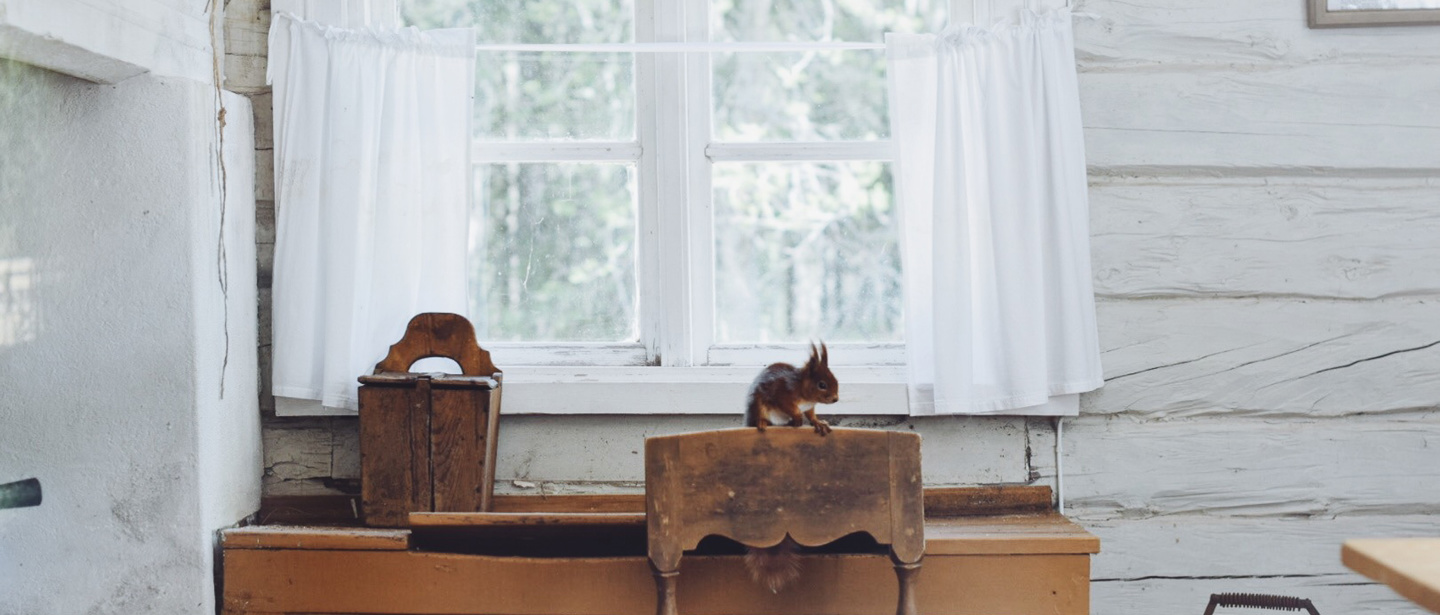 We met the other owner, Celina, in the restaurant. They had, of course, corona-secured everything; table service, plenty of space and distance from each other. We started by ordering food, pizza rolls in liba bread with different fillings. Celia's mother fixed food for Lo as well. She stuffed herself with ham, cucumber, corn, banana and apple. So nice to have an extra -on the side of the menu- baby order.
I chose the filling with ham and Fredrik the one with chicken. I'm still thinking about the good herb sauce in the roll. When we did not think it could be any more cozy, Celina takes the stage with the guitar and starts to sing. I get goosebumps when she picks up a harmonica and plays. Something that has also happened since I became a mother; I become so emotional. I just wanted to cry when she played one song after another. Lo took some lovely dance moves on the hall floor and rushed between the large rooms in the courtyard. Emelie walked around with the couple's son in a baby carrier on her stomach. I leaned over the table to Fredrik and said "Imagine being able to grow up like that, as well as just being able to be together from the beginning. Get to be involved in running a family business, what a heavenly dream!"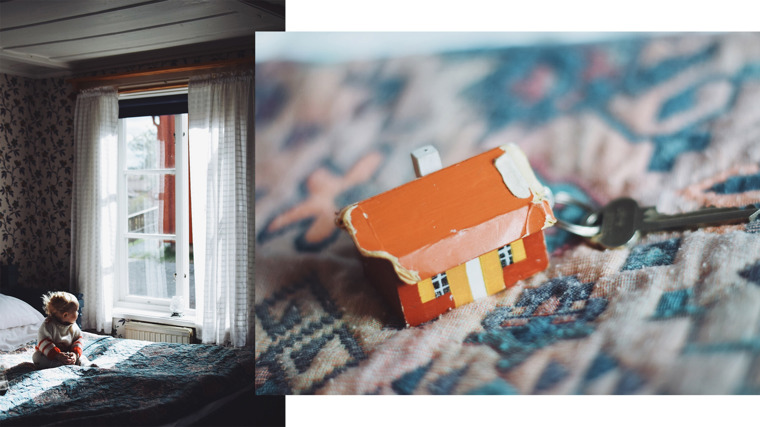 It was then time to put Lo down for the night. People sat both inside and out in the evening sun and socialized. We made some gruel that was swallowed immediately. Then she fell asleep in a few seconds, so tired after discovering Lövånger's church town.
We crept around in the cottage. Lighted candles, nibbled on chips and played Alphabet until our eyes crossed. We crawled down among cool sheets and a sleeping baby, the last thing we did before we fell asleep was whisper tomorrow's plans between each other. "Shall we walk in the nature reserve?" "Aaah!", "Shall we bring coffee in the backpack?" "Aaah", "Shall we eat waffles then?" "Yeah!" So we fell asleep, with new memories deep in our hearts.